We are very fortunate that the volunteers at Fight-for-boxing (www.facebook.com/FightForEvents) have chosen Aiden for their next fundraiser.  If anyone is interested in either taking part of coming along on the night to support the fighters please either contact Fight-for on the facebook link above or drop us an email at [email protected]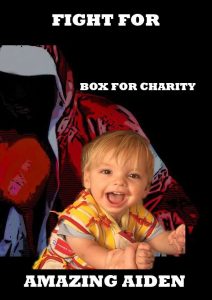 Donations can be made at www.gofundme.com/fight-for-amazing-aiden
***FIGHT FOR AMAZING AIDEN***
After a traumatic birth Aiden was born with HIE Grade 3.
Hypoxic Ischemic Encephalopathy (HIE) is a type of brain damage that occurs when an infant's brain doesn't receive enough oxygen and blood.
at the moment this means Aiden cannot sit unaided, cannot crawl or walk.
Aiden currently has physiotherapy and occupational therapy with the NHS on a monthly basis. Aiden spends the majority of his time doing physiotherapy through play and postural management to ensure he is in the correct positions for maximum impact to his muscles.
Over time Aiden's needs will change and to enable him to reach his full potential we need to provide him with more equipment and therapy which isn't always readily available.
Aiden loves to explore and play with his toys, he has the most infectious laugh and his smile will melt your heart.
**FIGHT ON A WHITE COLLAR BOXING SHOW FOR CHARITY**
GET SUPER FIT IN RECORD TIME.
LOSE WEIGHT.
RAISE OVER £5000 FOR AMAZING AIDEN.
Chelmsford's AWARD WINNING and ONLY professionally qualified boxing gym invites you to take part in the "Fight For Challenge".
The "Fight For Challenge".
Take part in eight weeks of training and box on our charity show on the 18th March 2017.
We will take you from beginner to competent boxer. You will then box on our professionally run show against another fight-for challenger.
We have been running shows for 6 years and have donated over £140,000 directly for local disabled children.
We donate directly from the proceeds to local named disabled children.
Our recent donations include;
£5,800 donated to Alexia for our November 2016 show..
£5,300 donated to Amber from our July 2016 show…
£10,100 donated to Amber from our March 2016 show,
In 2015 we donated £14000 to Alexia.
In 2014 we donated £6000 to Isabella and £5000 to Phoebe.
In 2013 we donated £14000 to Isabella.
For this show we will be donating to a different disabled child that needs our help.
We raise funds to improve the lives of local disabled children.
The only place to train for a boxing match is in a boxing gym. Train with people that know and understand boxing and have been involved in the sport all of their lives.
Train with people that know what they are doing, have experience with organizing boxing shows and will ensure your safety!!!
Training starts on Saturday the 20th January 2017.
However – you can start straight away if you like and as the gym is open EVERY NIGHT you can train whenever you want to!
***Want to volunteer??***
email us for an information at ;
[email protected]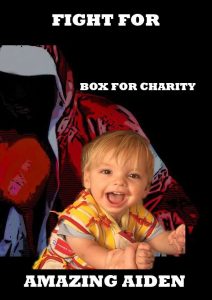 Join us on our Facebook pages;
"Boxat Fightfor"
and join the friendliest and best boxing guys in the county.
Thank you.