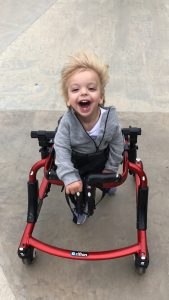 We are currently using 2 different donation sites
Please donate at:
or
 just4children.org/children-helped-2016/the-amazing-aiden
Just4Children allows us to raise through a Just-Giving page, which in turn provides Aiden with the ability to receive Gift Aid which adds to any donation made.  To donate through this method please view here.
For Aiden to reach his potential, and live as full a life as possible, he will need specialist equipment and continuous therapy. Not all of this can be provided locally or by the NHS, we therefore wish to raise money for Aiden.  All money raised will go towards supporting Aiden in the best way possible.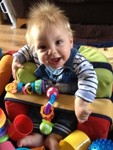 As we buy equipment and specialist therapies, updates will be given on our site, facebook and twitter. Our first aim was to buy some Squiggles equipment – this is a set of flexible pads and velcro, it sounds simple, but it is incredibly useful to get Aiden into the corrent positions. You can see Aiden in the borrowed portable version on the right…
With the support of so many fantastic people we have been able to purchase Aiden his own squiggles mat.  In addition to this we have also brought Aiden further home-based therapy equipment such as a Wingbo for alternative tummy time, sensory equipment which provides a visual yet calming environment and his favourite Chimeabout toy.
Along with therapy equipment we have also been able to fund his first block of Hippo therapy sessions. You can read about this here.
If you would like to contact us to discuss corporate sponsorship, donations needing a charity number or business account then please [email protected].