While Aiden was still in NICU at Addenbrooke's Rosie Hospital, and Fleur and Keith were living in the on-site accommodation provided by the The Sick Children's Trust, this campaign was started with Just Giving to raise money for ACT (The Addenbrooke's Charitable Trust):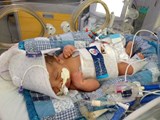 Aiden Graeme Johnston Mitchell — in support of The Rosie Hospital
Fundraising for The Rosie Hospital (Addenbrookes) for ACT because of the wonderful care and support they are giving.
Celebrating the birthday of: Aiden Graeme Johnston Mitchell on 17/06/2014
This campaign has so far raised at least 167% of the £500.00 target – at time of writing, it stands at 
£1,820.00 

raised
.
Aiden was born at 12:13 on 17th June 2014. He suffered an Hypoxic Ischaemic Encephalopathic (HIE) injury and was transferred to the Rosie Hospital at Addenbrookes in Cambridge for cooling (therapeutic hypothermia) and care in their ICU. We will not know how Aiden is going to do for some time, but he is a fighter and his parents and family members love him  very very much.
Fleur & Keith have been very well supported in the Rosie Hospital, and would like to do something to help give back to this wonderful place, so that other parents and babies can benefit. The Rosie Hospital is in part funded by charitable donations through the Addenbrooke's Charitable Trust (ACT).
Thanks for taking the time to visit Aiden